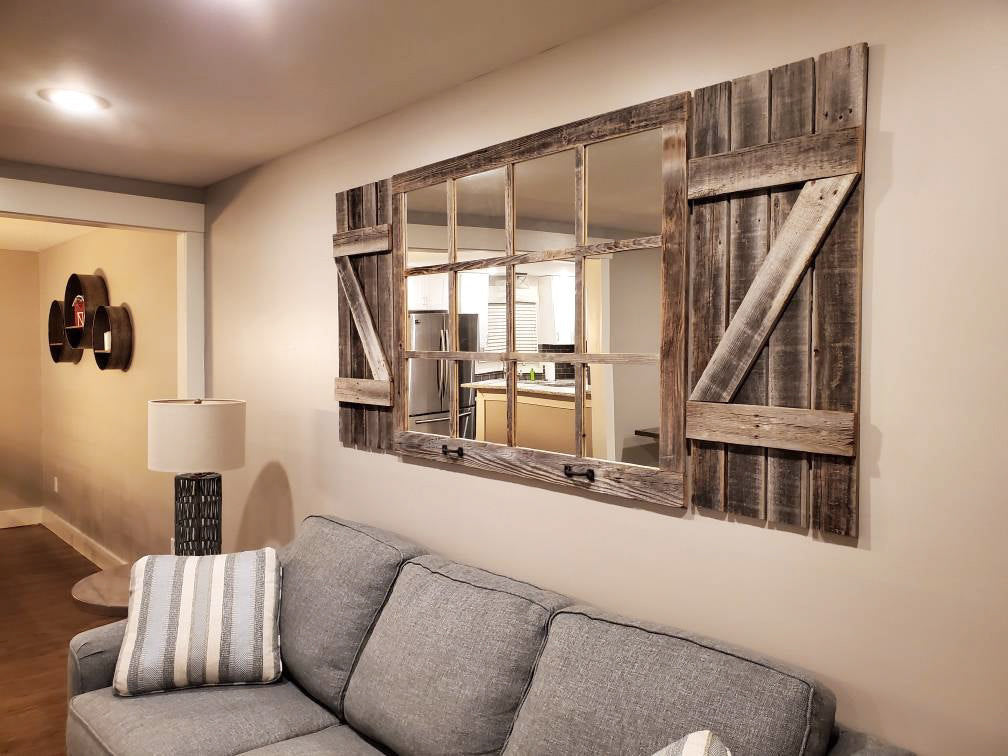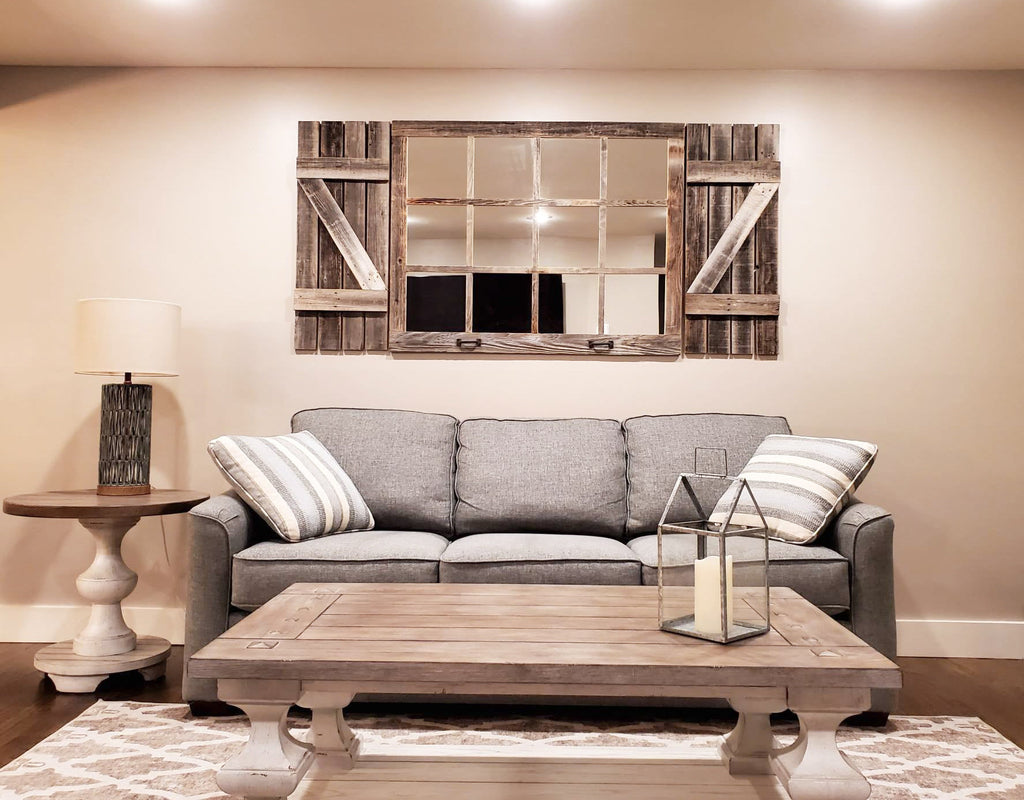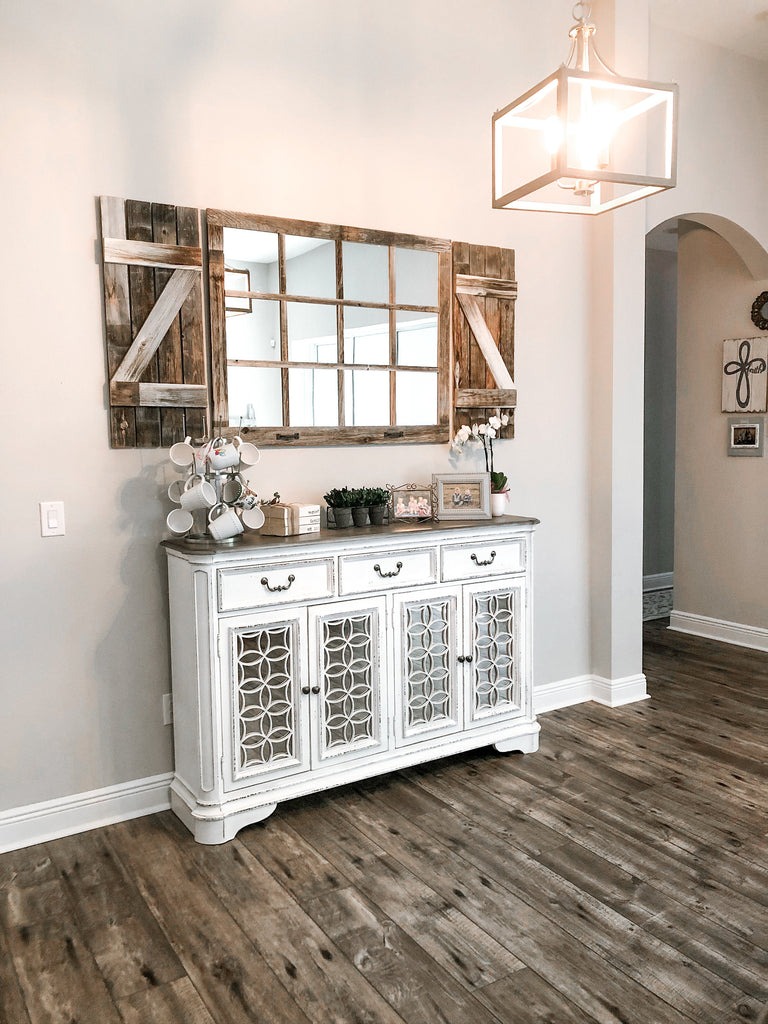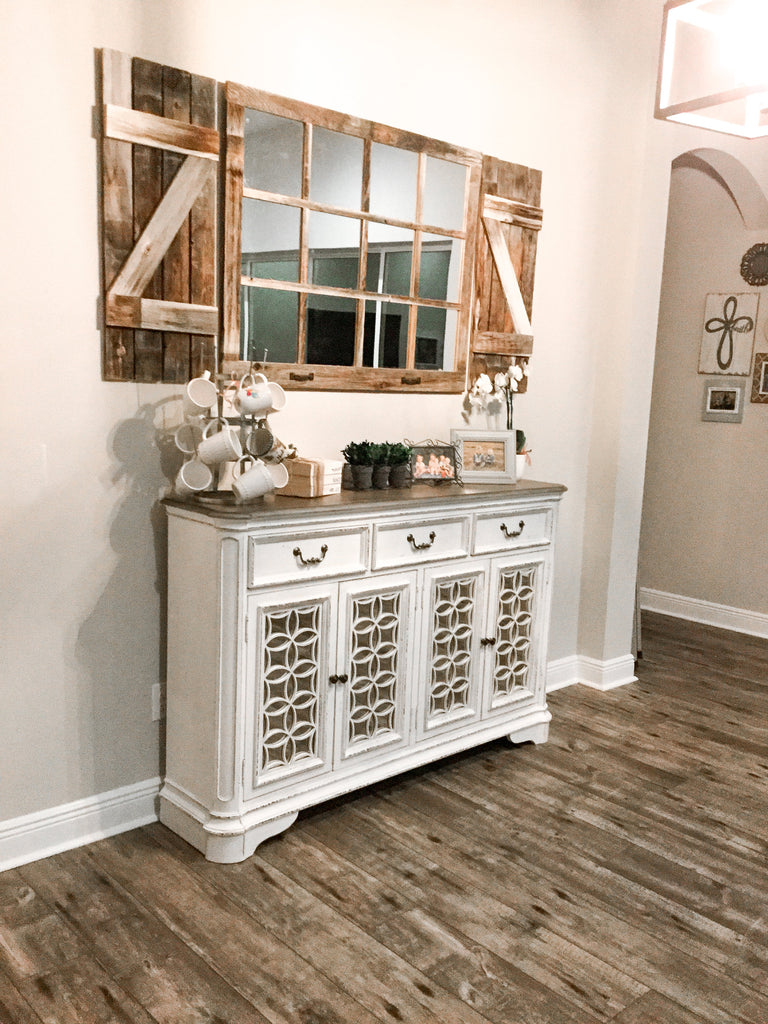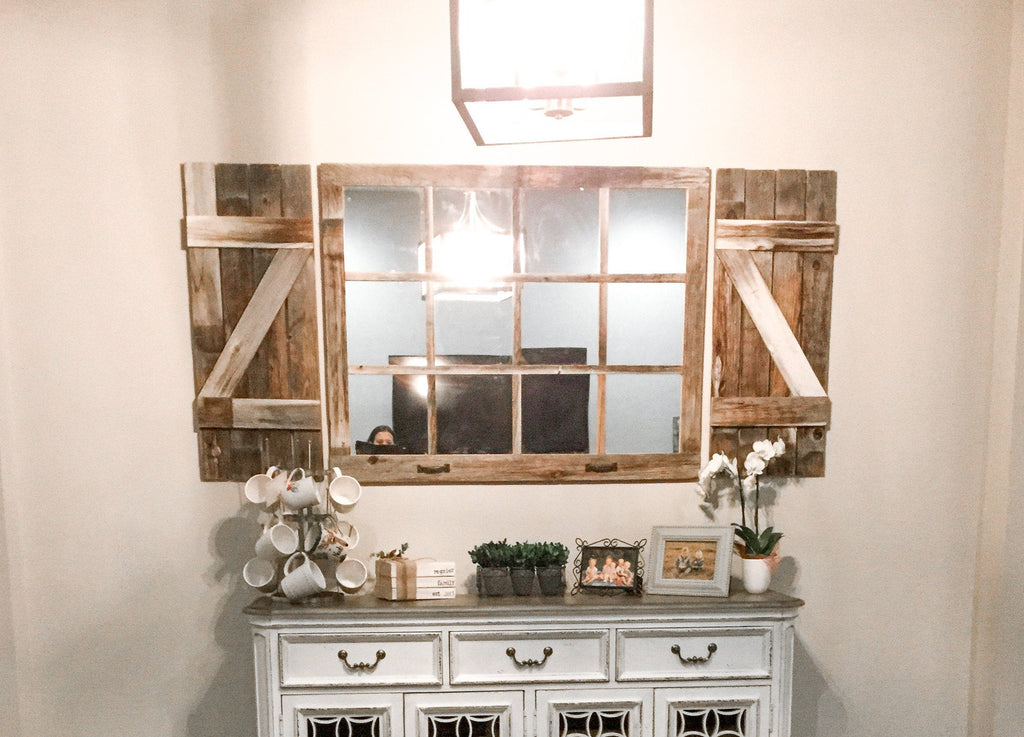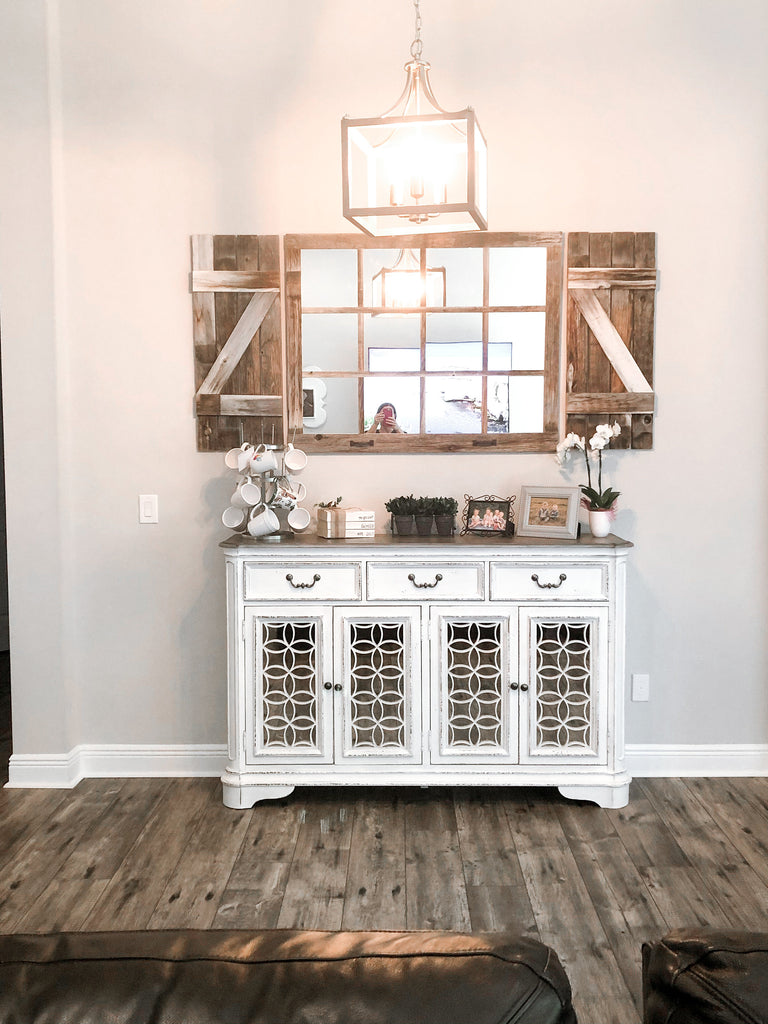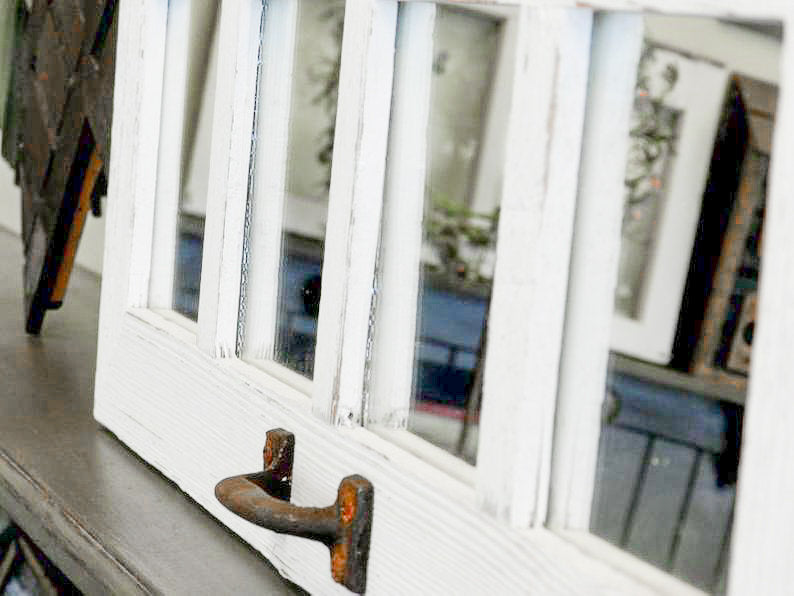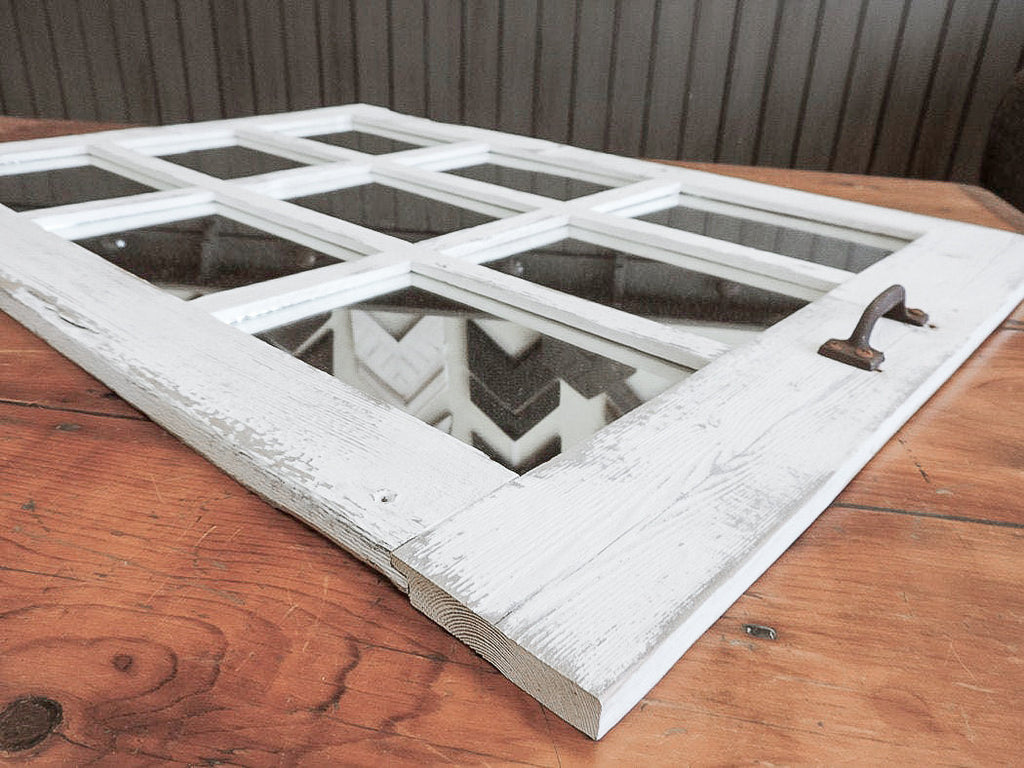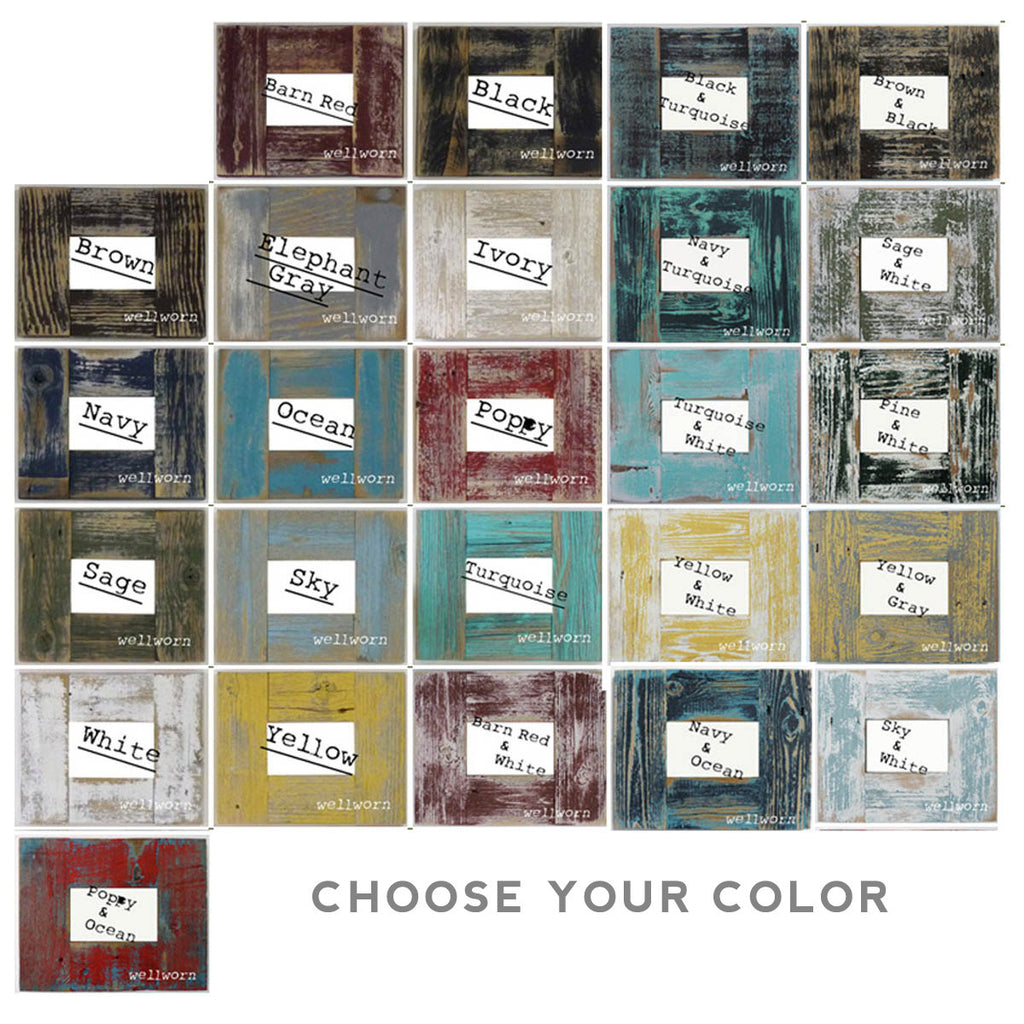 $ 302.99
$ 0.00
46"x 36" Farmhouse Wall Decor Window Mirror
Oh, my GLORIOUS farmhouse! This rustic window mirror is a crowd-pleaser! You will be so truly pleased with this addition to your farmhouse wall decor.
We love our customers! We also love how they display their amazing Rusty Mill items in their home. Megen did a beautiful job decorating her space with her Rusty Mill large rustic mirror. Thank you for sharing your space with us Megen!
DIMENSIONS:
*Window Mirror 46"x36"
*Shutters 14"x36" each so a total of 28"x36"
TOTAL DIMENSIONS MIRROR+SHUTTERS= 74"x36"
----------------------------
CHOOSE YOUR OPTION:
Mirror Only - This option will be the 46"x36" window mirror and the rustic handles. If you choose this option it will not include the shutters.
Mirror + Shutters - This option will come with the 46x36" window mirror, rustic handles, and a set of rustic shutters.
If you do not want the handles then just specify in the personalization section or notes to seller at checkout.
Mirrors come ready to hang with hanging wire installed. Shutters will come with sawtooth hangers to be installed by you our incredible customer.
NOTE: Each piece will vary in wood tone color and texture. Because we use real barnwood your item will have natural knots and defects in the wood.
NOTE: Mirrors are non-returnable. If you would like to pay for shipping both ways we are happy to make an exchange.
We have several other sizes for sale. Please message for details.
Thanks and continue to be awesome!
Beautiful product. As advertised and shipp...
Beautiful product. As advertised and shipped quick. Love it and would recommend.
46x36 farmhouse wall decor
It's nice, but not great.
The quality is there. Very sturdy. But it's decor, so the paint job looks cheap and not high quality so hanging that up for all to see was a tough decision but well....I'm already paying for it so I put it up. This type of art has a certain look to it and this is missing that extra touch of authenticity. Just do a search on line so you have a better idea on what this is supposed to really look like in the end result.
Options with pictures is what the website is missing. Other sites have it but not this one. Again, more options would have been helpful. I'm honestly not too happy with it but I pretend for the wife. I apologize if this hurts anyone's feelings. I was just really hoping to be struck with a marvel to look at. I don't know, maybe I'm going to far with my comments. My hopes were hight, that's all. Sorry.
I like the rustic look (my husband thinks...
I like the rustic look (my husband thinks it is TOO rustic). I feel the item met my expectation.
5 stars review from Mario
5 stars review from Mario
love, love, love it! the only thing is i o...
love, love, love it! the only thing is i ordered dark brown and it looks black. it is so cool though! very happy!